Elvan Dany Sutrisno - detikNews
Jumat, 24/06/2011 21:41 WIB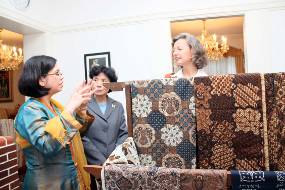 Foto: detikcom
Jakarta
- Budaya Indonesia terus mendunia. KJRI Hamburg mempromosikan batik Indonesia di Jerman. Ternyata banyak peminat batik di Jerman.
Hal ini dilakukan dalam bingkai promosi seni budaya Indonesia di wilayah kerja Jerman Utara. Pada hari Kamis tanggal 23 Juni 2011, KJRI Hamburg telah menyelenggarakan acara pengenalan dan demo batik dengan tema "The Beauty of Batik: An Indonesian Heritage" bertempat di Wisma Konjen RI Hamburg.
Acara tersebut dihadiri oleh 25 tamu undangan antara lain Konjen AS, China, India, Venezuela, Yunani, Mesir, para spouse dari beberapa kepala perwakilan asing di Hamburg yang tergabung dalam Consular Women Club, Dir. Hublu Kadun Hamburg, pengusaha, dan sejumlah media internasional.
Dalam sambutannya, Konjen RI Hamburg M. Estella Anwar Bey mengemukakan bahwa maksud diselenggarakannya acara ini adalah untuk memperkenalkan dan meningkatkan pengetahuan para tamu undangan mengenai batik. Batik merupakan salah satu produk tekstil Indonesia yang dibuat dengan sentuhan budaya tradisional.
"Batik Indonesia berasal dari beragam daerah yang dapat dikenal melalui warna dan coraknya. Setiap corak pada sehelai kain batik memiliki arti yang berbeda. Saat ini batik telah ditetapkan oleh UNESCO sebagai salah satu warisan budaya milik bangsa Indonesia," tuturnya.
Acara promosi dan demo batik tersebut dikemas dalam waktu 2 jam dan dipandu oleh Frau Annegret Haake, seorang pakar batik berkebangsaan Jerman. Sejak tahun 1970 ia telah menekuni batik Indonesia dan menulis beberapa buku, diantaranya "Javanische Batik : Methode – Symbolik - Geschichte" .
Acara dilaksanakan dalam tiga sesi, yaitu pemutaran film mengenai produksi batik berjudul "Indonesian Batik : A Living Art, Local Tradition and National Pride", presentasi berisi penjelasan mengenai sejarah, jenis dan corak batik, dan praktek pembuatan batik dengan teknik menggunakan canting dan pencelupan kain dengan mengaplikasikan malam di atas kain sebagai bahan untuk menahan bahan pewarna.
(van/gah)
Follow twitter @detikcom dan gabung komunitas detikcom di facebook
source : http://www.detiknews.com/read/2011/06/24/214114/1668322/10/wow-batik-indonesia-dipromosikan-di-jerman?utm_source=feedburner&utm_medium=feed&utm_campaign=Feed%3A+detik%2FBPZW+%28detikcom%29