|
Kistyarini
|
Jumat, 6 Januari 2012 | 11:36 WIB
Dibaca: 12340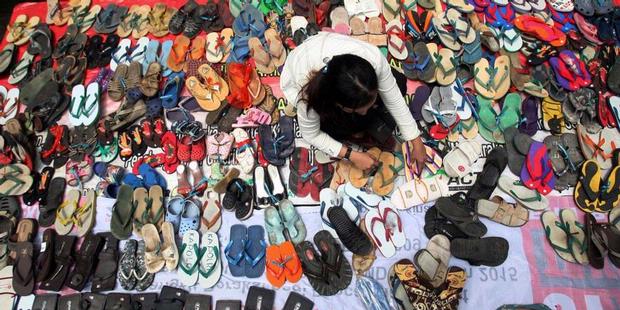 AP
Ratusan pasang sandal kiriman warga sebagai wujud solidaritas pada AAL, remaja 15 tahun, yang dituduh mencuri sepasang sandal jepit milik seorang anggota kepolisian di Palu, Sulawesi Tengah.
JAKARTA, KOMPAS.com
— Kasus pencurian sandal jepit yang melibatkan AAL, seorang remaja 15 tahun di Palu, Sulawesi Tengah, ternyata menjadi perhatian ratusan media asing.
Media-media besar seperti
BBC
,
CNN
,
ABC News
,
Voice of America
,
New York Times
,
International
Business Times
,
Wall Street Journal
,
Radio Australia
,
New Zealand Herald
,
Hindustan Times
,
Washington Post
, juga kantor berita
Associated Press
(AP) dan
Agence France-Presse
(AFP) memberitakan kasus yang menghadapkan AAL yang merupakan seorang pelajar SMK dengan Briptu Ahmad Rusdi Harahap, anggota Brimob Polda Sulteng.
Ada yang menggunakan judul menarik. Kantor berita
Associated Press,
misalnya, menggunakan judul "
Indonesians Have New Symbols for Injustice: Sandals
". Sementara
Voice of America
menggunakan judul "
Indonesian Use Sandals as Justice Symbols
".
Sebagian besar media menyertakan foto tumpukan sandal kiriman warga sebagai simbol solidaritas terhadap AAL, remaja yang didakwa mencuri sandal seorang polisi, serta sebagai bentuk protes atas ketidakadilan yang sedang terjadi.
Hakim Pengadilan Negeri Palu, Rabu (4/1/2012) malam, memvonis terdakwa AAL bersalah dalam kasus pencurian sandal jepit milik seorang anggota polisi. Meskipun demikian, hakim sidang Romel Tampubolon tidak menjatuhkan hukuman kurungan penjara. AAL hanya dikembalikan ke orangtuanya untuk mendapatkan pembinaan.
Pada Desember 2011 lalu, berita tentang penahanan 65 anak punk di Aceh juga sempat mendunia. Peristiwa ini bahkan memicu demonstrasi komunitas punk di San Francisco di depan Konsulat Jenderal Indonesia di negara bagian California, Amerika Serikat, itu.
source:http://internasional.kompas.com/read/2012/01/06/11364285/Ratusan.Media.Asing.Beritakan.Kasus.Sandal.Jepit